Best Online Digital Marketing Course for Professionals and Beginners
Note: I am reviewing a Digital Marketing course that I have enrolled in. If you find the course interesting and wish to enroll, you could use by referral code "SAKT183" to get Rs.15000 discount!
In this modern competitive era, you have to constantly upgrade your skill sets to make your career and life progress. Developing a skillset after landing in a job for a particular role is mandatory to move/progress to a more advanced/superior job. The internet has made this process easy by providing cheap and convenient platform to learn almost anything you wish to. For instance, if you want to learn about digital marketing , you could simply go to youtube and find relevant videos. Or you could sign up for free or paid digital marketing course via online learning platforms like Udemy and Coursera.
You might already have experience using such platforms and have found it very useful and informative. But, are these online digital marketing course/s sufficient enough for you to move forward in your career? I would say NO. These courses available are not professional courses and the information you learn via these short courses, videos, etc., have the following limitations:
There is no proper information/syllabus flow and any one can post educational videos online.
Even in certified online courses in many online learning platforms, there is no deadlines to finish the course, and it is totally up to you to allot time for the course. i.e. there is no commitment nor any means to practically implement your learnings via assignments, case studies etc. Ultimately you stop leaning the course midway because there is nothing to push you or interest you.
We have been trained and accustomed to a learning system during our schooling and college where we are provided with the deadlines and goals to work. Moreover, we have been frequently supervised to ensure that we stick to these deadlines. Most online platforms do not have these features that we are used to and hence the learning standard is not met.
upGrad has come with a viable solution for this problem and designed online courses specifically for your career growth. Learn more about Upgrad here.
upGrad had tied up with reputed institutions to provide a) short certificate programs spanning from 6 to 12 months and b) online degree programs for professionals.
Interesting lectures with many industry leaders to teach you.
Regular activities to engage and monitor your learning process.
Apply your learnings practically by parallel assignments, case studies, freelancing training, etc.
A virtual college degree level education experience in a short span of time to upskill and upgrade your career.
I am going to talk about the Digital Marketing and Communications course that I am enrolled currently. Upgrad provides a wide range of courses and you could check them out here.
Significance and Scope of this online digital marketing course for professionals:
Marketing is undoubtedly an important function and companies allocate huge budgets to reach out their customers with their products/services. The widespread existence of internet has created new and potential scope for marketing in this digital era via Digital Marketing. The various ads that you see when you visit a website, social media platforms etc. are part of digital marketing campaigns. A vast knowledge is required to master Digital Marketing and hence a proper Digital Marketing Course has to be studied. Moreover, the scope of digital marketing will only grow in the upcoming years.
General Overview of the Online Digital Marketing Program for Professionals:
This Online Digital Marketing and Communication PG certification is taught by experienced professors from a highly reputed MICA University as well as Industry Professionals from Facebook, etc. Moreover, this course is certified by MICA and Facebook. Hence, at the end of the course, you will definitely be in a position to start a career in the Digital Marketing sector.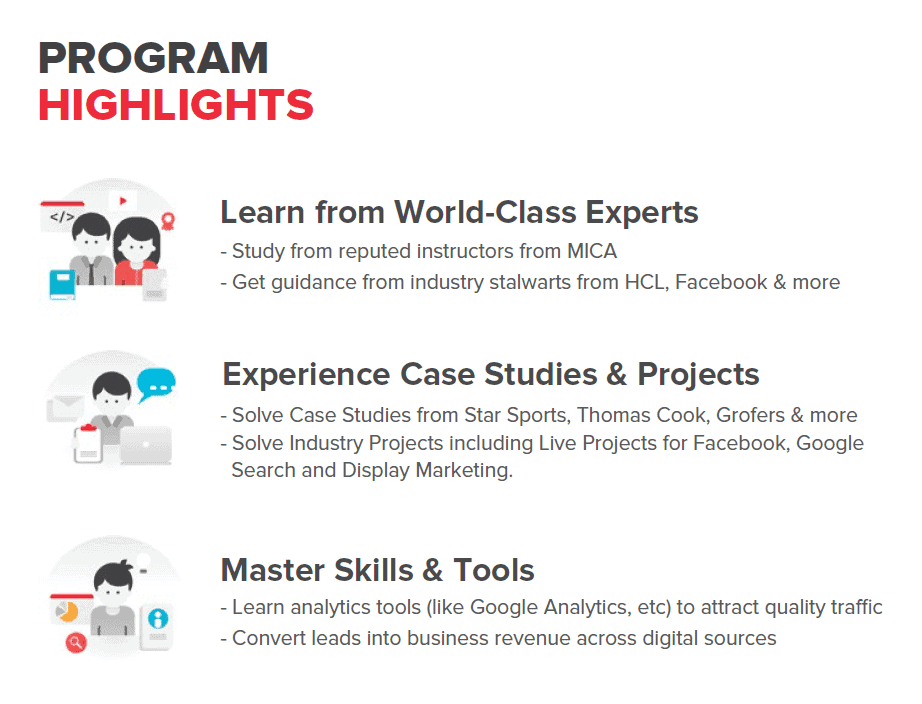 This Online Digital Marketing course for professionals offers three tracks for you to choose from namely Executive, Management and Leadership track. If you are totally new to digital marketing, you could choose the Executive track which will cover everything from the scratch. If you are already working in this field, then you could choose either Management ( 3-5 years of experience) or Leadership track (more than 5 years experience) to upgrade your job position based on your work experience. This is the key highlight of this digital marketing course: anyone can learn, master and start a career in digital marketing.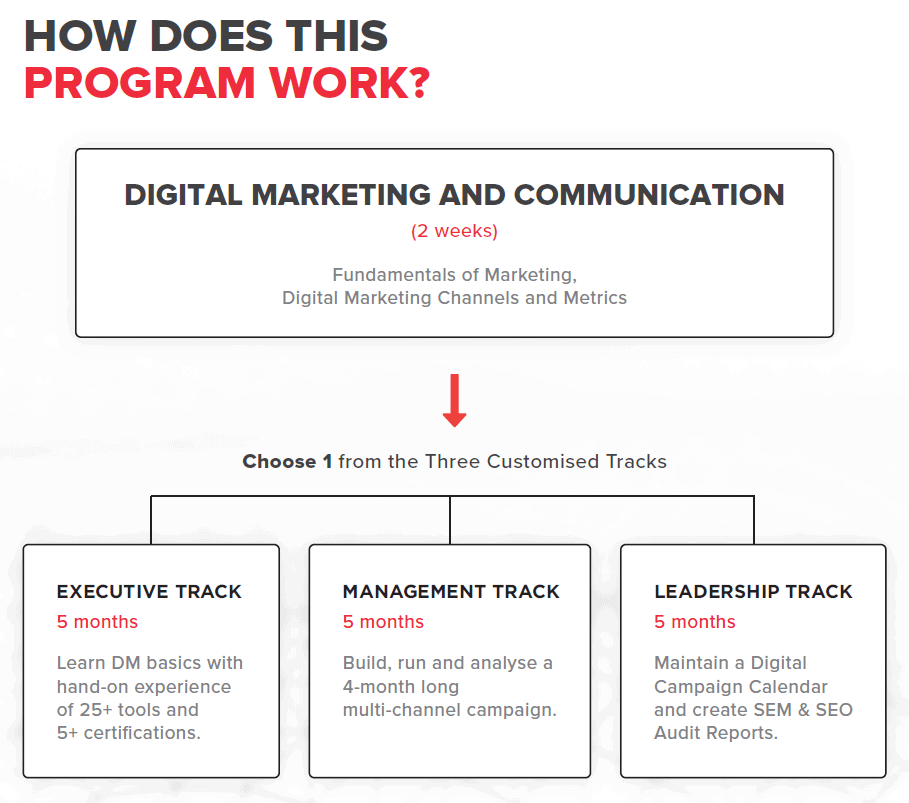 Along with the core module of this digital marketing course for professionals, you will be given an option to choose one or more specializations based on your area of interest. You will be guided by the admission counsellor to choose your course track and specialization . I chose the executive tract and the Social Media and Content Marketing Specialization. My objective of taking this course is to start a social media marketing agency in the future. Similarly, your counsellor will explain all possible career options and you could choose a track and specialization accordingly.

Online Digital Marketing Course For Professionals Modules:
Regarding the syllabus, you will first start with a marketing fundamentals module so that you understand the basic concepts of marketing before applying it digitally. I found this module very fascinating and interesting because various ad commercials were used to explain every concept. It is then followed by the Digital Channels and Metrics module where you will study the various digital marketing channels available like social media, etc., and the metrics needed to assess marketing campaigns. After these two basic modules, the rest of module depends on what course track you choose.
Generally, every track covers concepts like SEO, SEM, Social Media Marketing, E-mail Marketing, Content Marketing, Web Analytics, Creating a Web presence, etc. You could learn more about this online digital marketing course syllabus for your specific track here.
Overview of Upgrad's Learning Platform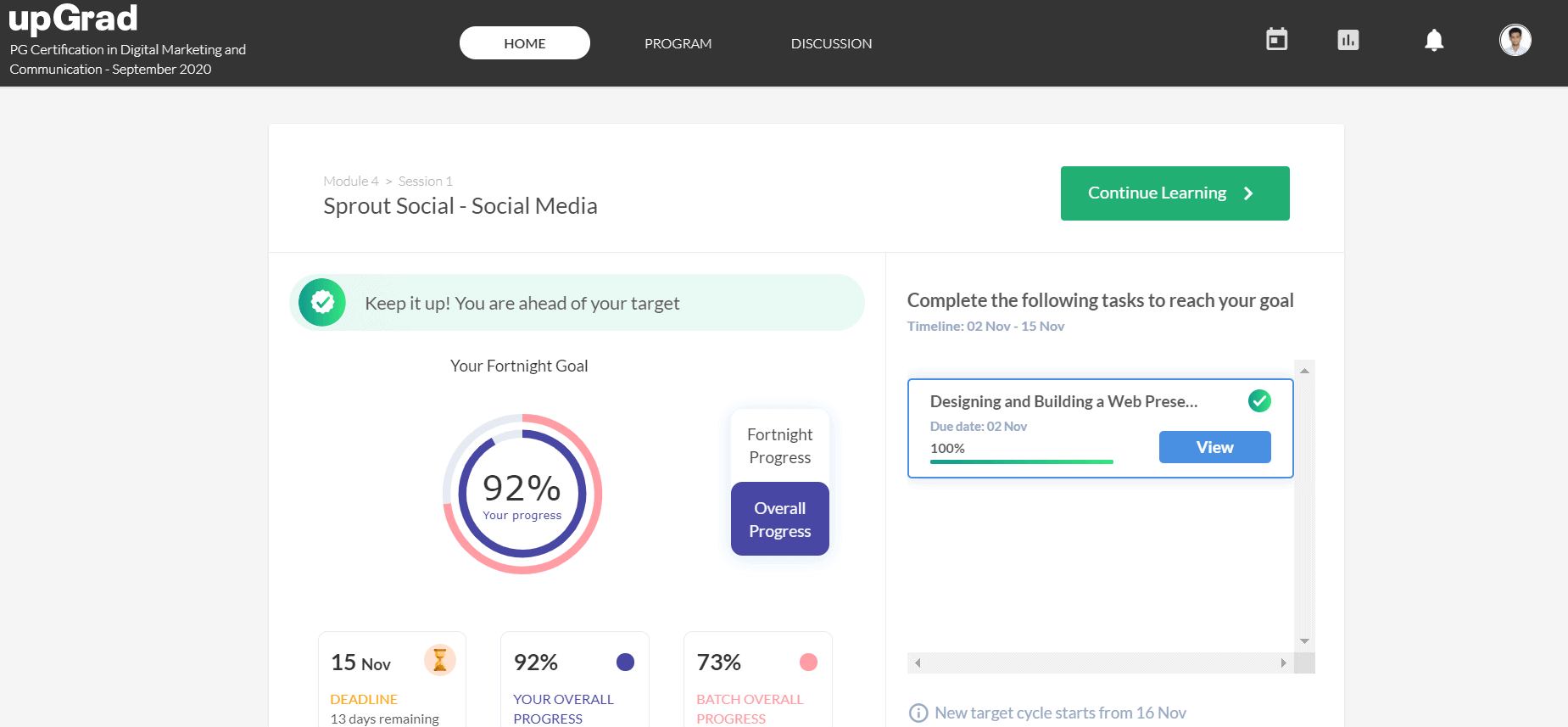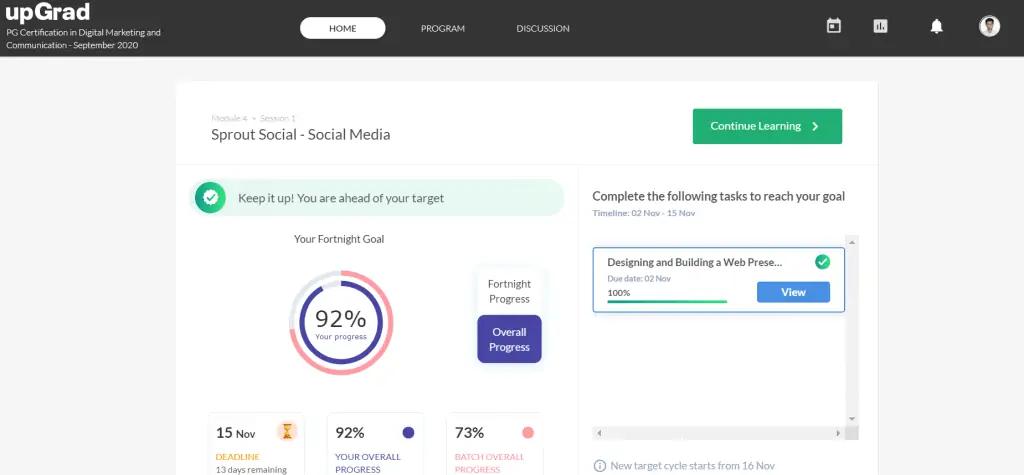 This is the key takeaway for me and I am sure you will always love the way the learning platform is designed. The platform is available in both webpage as well as a mobile app. So you could easily access your learning platform from anywhere. I have displayed the screenshot of my learning module for your reference. As you see in the home page of the portal, you could get information about the digital marketing course progress and the deadlines to complete a module and assignment submissions.
On the program tab of the portal, the various modules will be displayed in a sequential order. You will be allowed to access the subsequent modules only after completing the previous ones. This makes sure that you don't skip any modules. You could also easily access the modules anytime for revision. After each module, there will be graded questions to assess your learning process. There will also be assignments at the end of a particular course topic which will help you to practically apply your learnings.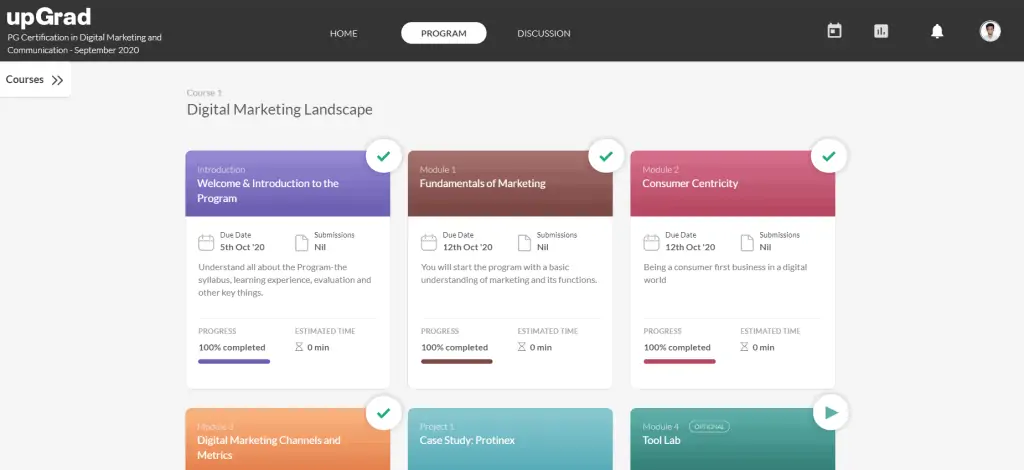 In the Discussions tab, you could ask questions related to your queries and get them answered by your peers and faculties. Moreover, your participation in this Discussion forum accounts for 10% of your overall gradings and hence it is mandatory to participate in the forum. You also get points for answering and asking questions and you will be ranked on the leaderboard accordingly. This helps in promoting healthy discussion of subject matter and complements the overall learning process.
You will be having a student mentor whom you could contact in case of any queries relating to the course. The mentor will also send your frequent emails regarding the course details and deadlines. There is also a calendar which can be accessed from the top right corner from which you could set reminders for upcoming events like webinars, weekly live sessions, etc.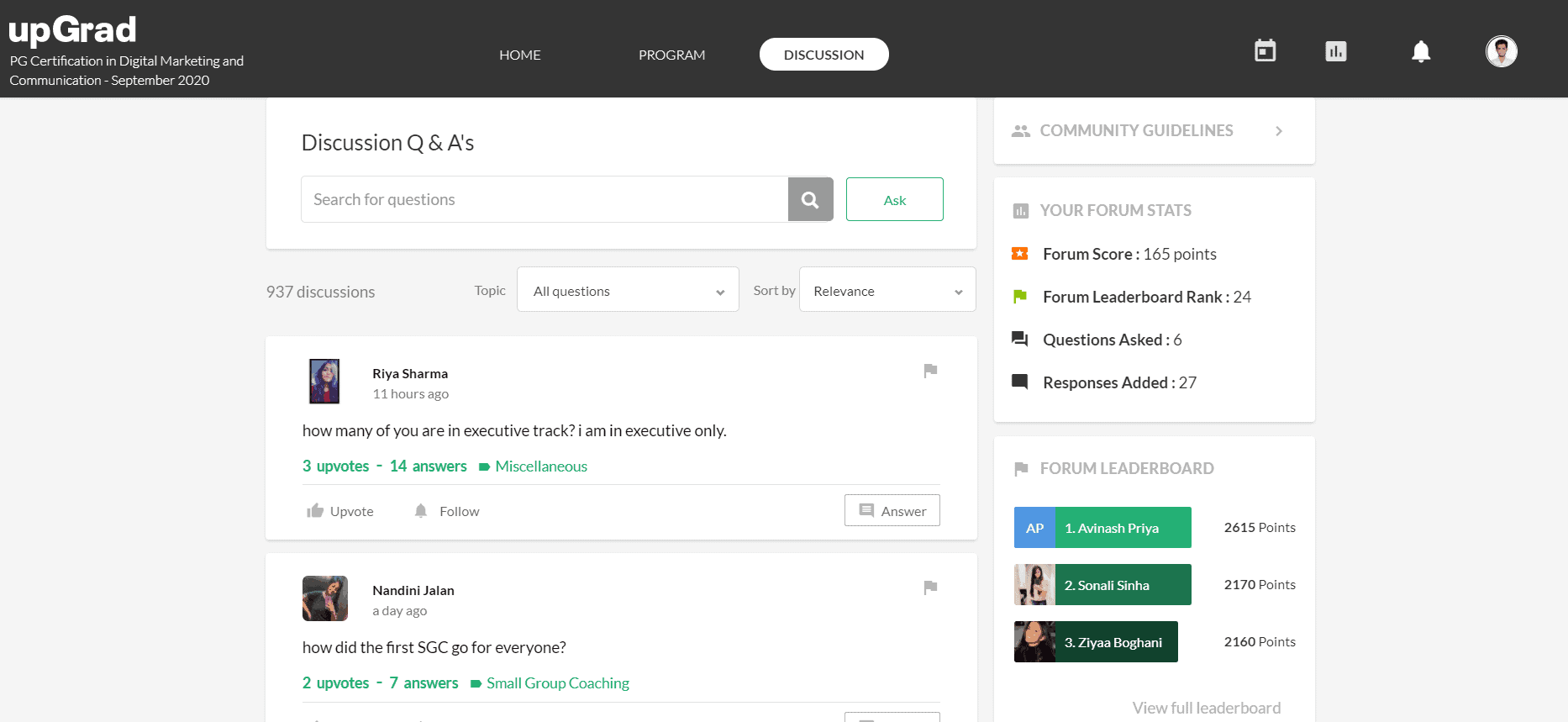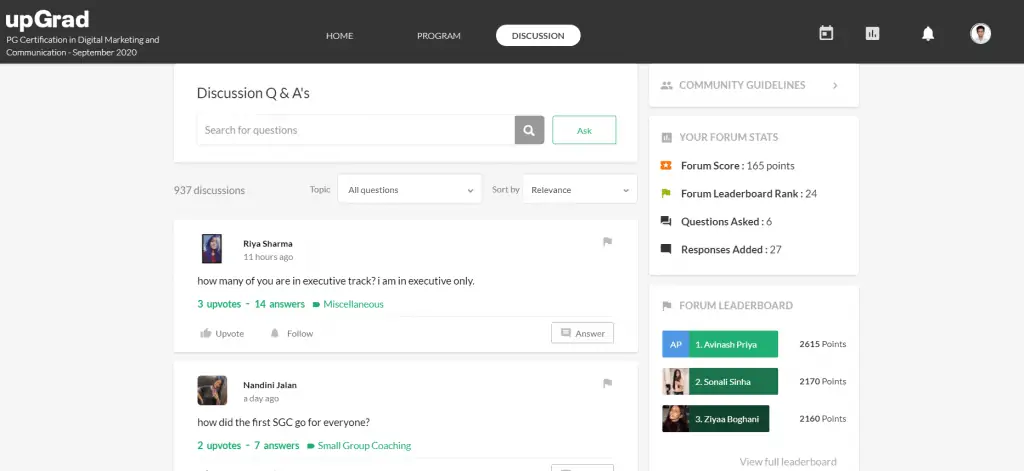 Key highlights of this Upgrad's Online Digital Marketing Course for Professionals:
The best available online digital marketing course for professionals.
Networking with faculty, industrialists, and peers.
Certification from MICA and Facebook.
Engaging and live group projects.
Career Guidance Program
Potential Career options at the end of the course.
Fun and Interactive learning.
Suitable for beginners as well as professionals.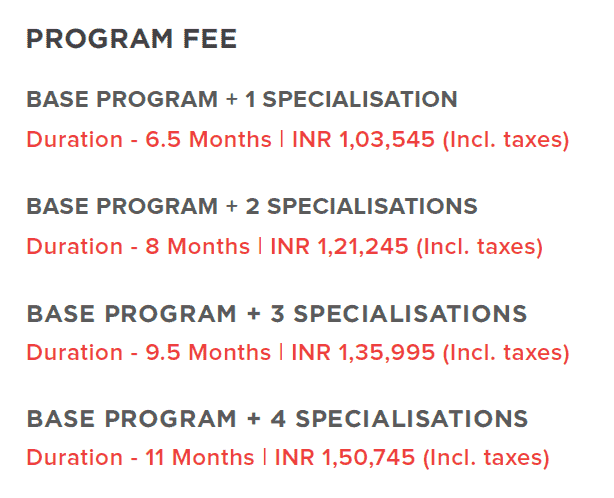 The program fees and duration for this online digital marketing course for professionals are mentioned above. There are different payment options available like no-cost EMI etc. and you choose one based on your convenience.
Since I am already enrolled in the course, you could use my referral code "SAKT183" to get Rs. 15000 to 30000 discount! Discount applicable for all Upgrad programs.
If you are interested in this online digital marketing course for professionals, fill this google form and I will ask my student mentor to contact you for a counseling session. I would also inform you that you will be availing of a discount using my referral code.
Referral Code "SAKT183"
Use my Referral Code "SAKT183" while enrolling in this Online Digital Marketing Course for Professionals and Get Rs.15000 Discount!
Visit Course Website
To conclude, I would strongly recommend you to enroll in this Upgrad's Online Digital Marketing course for Professionals to kickstart start or boost your career. I was very reluctant to select this course since there were many free courses available. I wasted around 4 months of time trying out the free courses before ending up enrolling in this course. Once I have started learning the course, I was very much relieved and satisfied that I have chosen the best online digital marketing course available.
So what are you waiting for? Just get in touch with Upgrad and get details about this online digital marketing course for professionals.