ChatterPal Review: Should You Buy this AI Chatbot ?
ChatterPal is an automated chatbot/AI chatbot which helps you to boost your website engagements and skyrocket your Leads and Sales in minimal time!
Use Coupon Code 'DEALPAL' and get 5$ offer! Limited Period Only.
ChatterPal Review- AI Chatbot INTRODUCTION
While sending traffic to your websites, have you wondered why there are less conversions?
Also, have you wondered why your bounce rate is high?
The answer is simple. People do not get convinced by the information provided on your website to proceed further and make a purchase. But, does that mean that the content you create is less interesting or engaging? Well, not always! Then, what actually is the problem? Let me explain you with a viable solution.
People who visit your website do either of the following actions:
Leave your website very soon without reading/taking any action – bounce off.
People might be interested in your product/service but may not end up buying.
People who end up buying your product/service.
Let's start discussing each actions starting from action No.3. It is the perfect action you would want your customers to do to bring about sales/conversions. People with Action No.2 are most likely to be considered as your potential customers. These people like your product/service and are more likely to buy them. They might even add your product/service to the cart, but may not complete the buying process.
The reason for this action is due to the subjective thinking of each and every such customers. Even though your website contains all the necessary information, people would want to ask certain specific questions and wants them answered easily and quickly, so that they are convinced to buy the product/service. Moreover, most people are lazy to contact you via mail/ contact fill in forms. These methods are also less effective in terms of quick reply and economy/cost, since you need to hire people to watch out for queries 24/7.
The only viable and efficient solution for this problem is to use an Automated Chatbot which will do this hectic job for you. Chabot is an automated software application which can be installed/setup on your website to answer customer queries 24/7. These automated chatbots for websites work on Artificial Intelligence(AI) technology and either uses text or text-to-speech means to create a conversation with your potential customers. Using such an AI chatbot could even engage people with action No.1 and prevent them from bouncing off your website!
Having said that, I will be talking about the latest and revolutionary AI chatbot for website – ChatterPal. Now, you would wonder why I am recommending only this AI chatbot/automated chatbot while there are many such automated chatbot for websites available in the market?
ChatterPal AI chatbot/automated chatbot has many pathbreaking features like next gen Text-to-Speech, Smart Analytics Engine, Easy Setup , Multi Language support, etc., which I will be covering in detail during the course of this review article.
Note : You could use the Table of Contents available at the beginning of this article to easily navigate to specific topics on this AI chatbot/automated chatbot.
ChaterPal Review - What actually is this AI Chatbot?
ChatterPal is a next generation AI chatbot which will be your One and Only Personal Assistant for your website 24/7/365!
Using this automated chatbot, you could now Work Less, Spend less but Earn More by increasing your leads and conversions by many folds!
Chatterpal AI chatbot helps you to:
Convert ordinary/less engaging websites, blogs and sales funnels into so called 'Smart Sales Machines'.
Engage and capture the attention of your users with interactive 3D avatars and next gen Text-to-Speech.
Automate the collection of leads and sales conversions without the need of opt-in forms or landing pages.
Create unlimited number of Chatterpal AI bots/automated bots for website i.e. for yourself as well for your clients using ChatterPal's Commercial License.
ChatterPal Review - Features of this Automated Chatbot/AI Chatbot
Many of this AI chatbot/automated chatbot's features are top-end driving leads and sales conversions; some are even 'first-to-market". Let look at them in detail.
Next-Gen Text-To-Speech Technology with Lip Sync Technology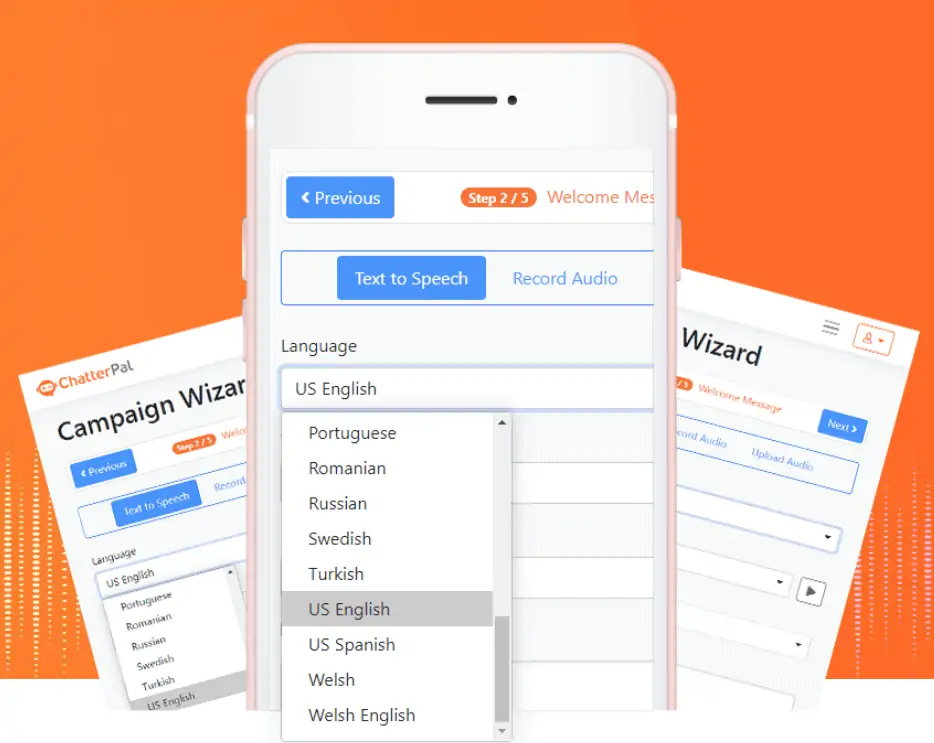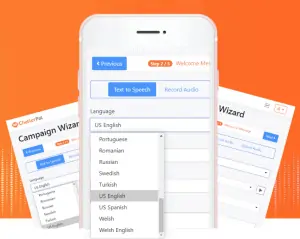 This is one of the key highlight of this ChatterPal AI Chatbot. Automated chatbot from ChatterPal supports over 55 life-like/natural voices in around 25 languages. Moreover, this is the same cutting-edge technology that powers Google Home and Amazon Alexa!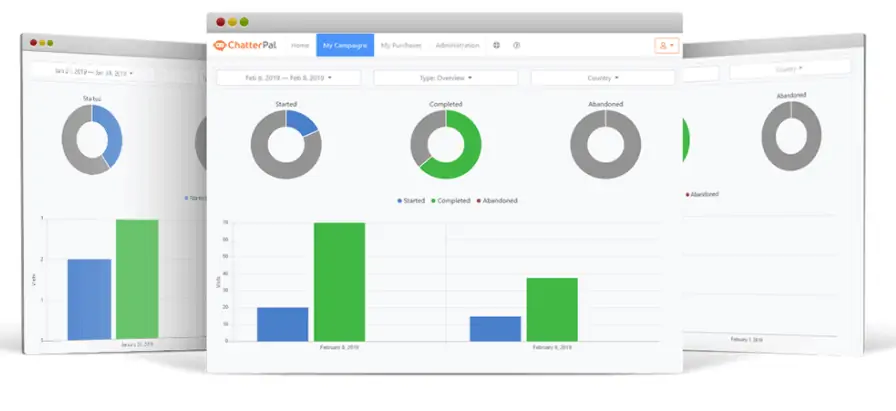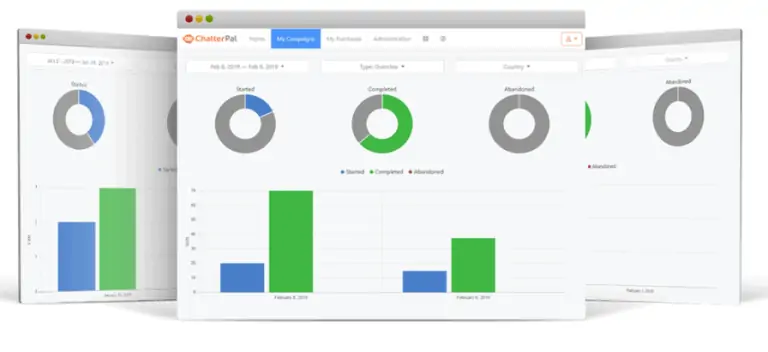 This is another key feature of this ChatterPal AI chatbot. Smart Analytics Engines gives you real-time feedback on what's working and what's not working by using Artificial Intelligence (AI) Technology. The automated chatbot system also optimizes the chat-flow to get better results. Using this AI chatbot for website, you could also get a detailed analytics on conversions, geo-locations, time, engagement and much more.
Onboard Instant Language Translation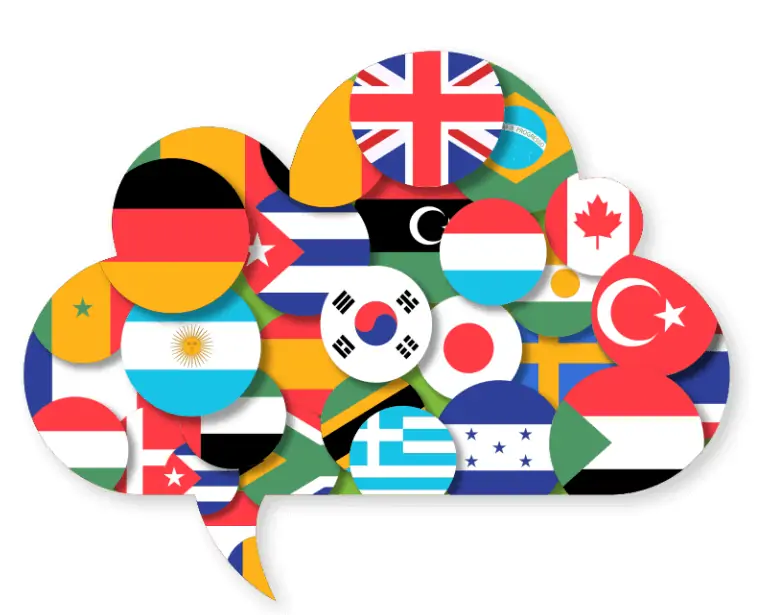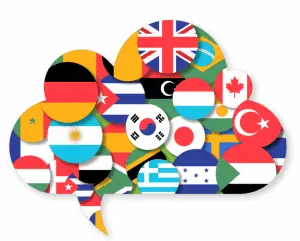 Using just a click, you can now translate any chat or conversation into any languages. This feature of this automated chatbot comes in handy when you want to set up AI chatbots for different countries and languages.
Pre-Made Chat Flow Templates for Easy Customization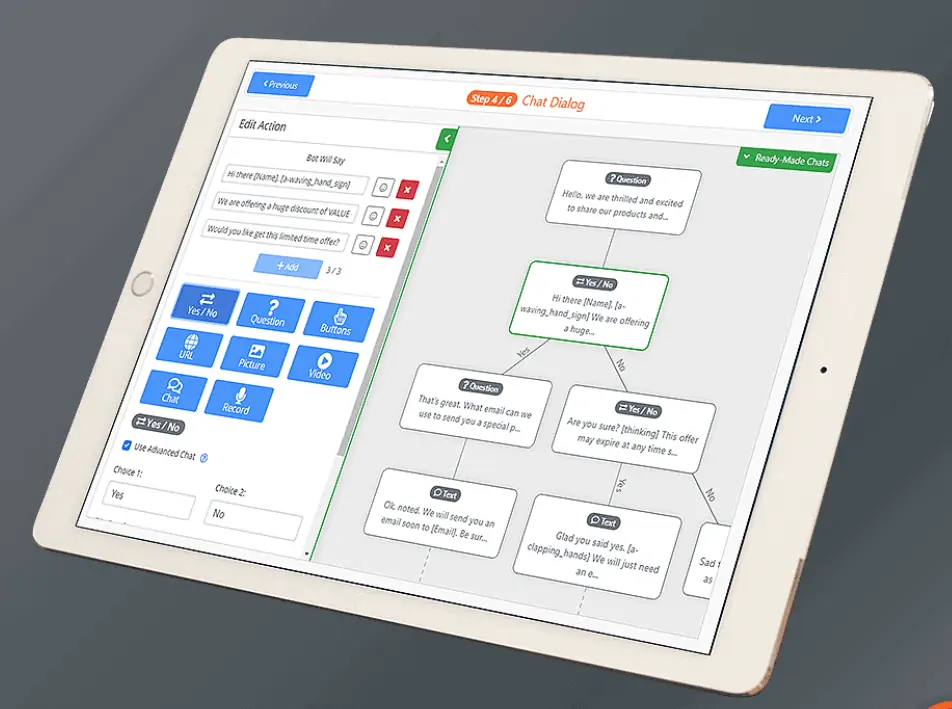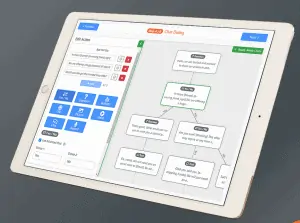 ChatterPal's AI chatbot is loaded with pre-made and fully-customizable chat flow templates. Using this 'out of the box' feature, you could easily create and set-up standard and advanced chat-flow conversations easily within minutes. This automated chatbot for website provides readymade templates for collecting subscriber lists, booking appointments, offering discounts and much more.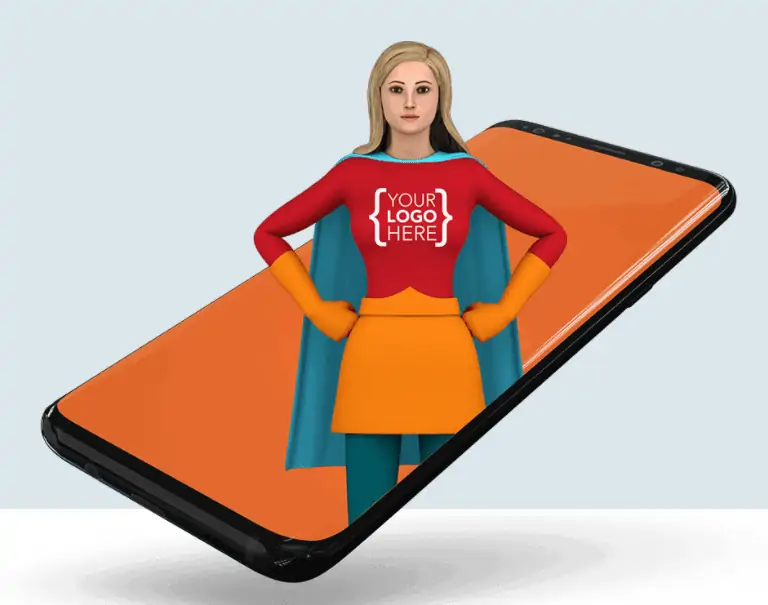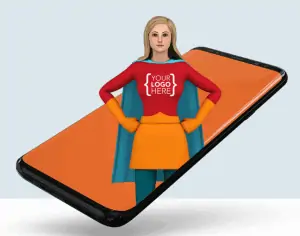 You could even brand your selected 3D Avatar chat agents using your company's brand logo. ChatterPal AI Chatbot also ensures that the logo flexes and moves with the avatar's movements thus give a realistic/natural feel to the user.
Revolutionary Live-Link Technology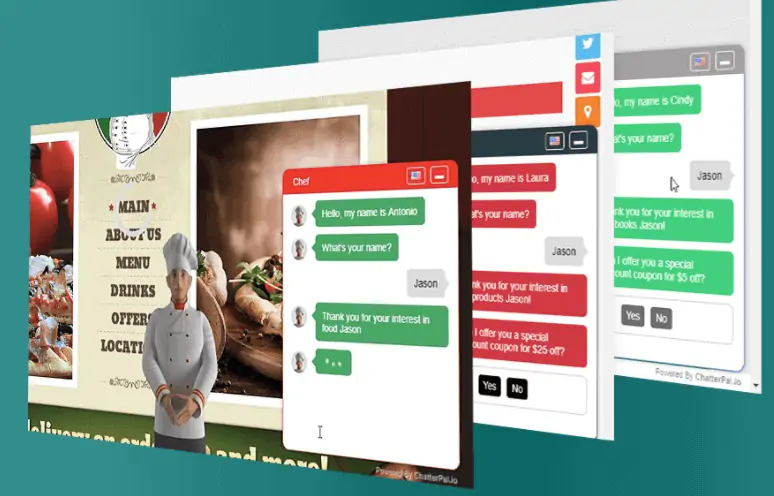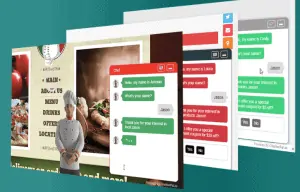 Don't have a website? Not an issue!
You could place a Chatterpal AI chatbot on ANY website, even on the ones which you do not own! Yes, you heard me right!
Use this out of the box ChatterPals's automated chatbot feature to get leads, subscribers, and even affiliate sales without even owning a website. You could also use this feature to demo your chatbot before setting it up on your own website.
43 Life-Like Realistic 3D- Animated Charactors


Unbelievably realistic human (male and female) and even animal avatars to choose for your AI chatbot/automated chatbot to converse with your users via Text-to-Speech or by any voiceovers. Generally, it will cost thousands of dollars to create such 3D- animated chatbots.
Personalized 3D Chat Agent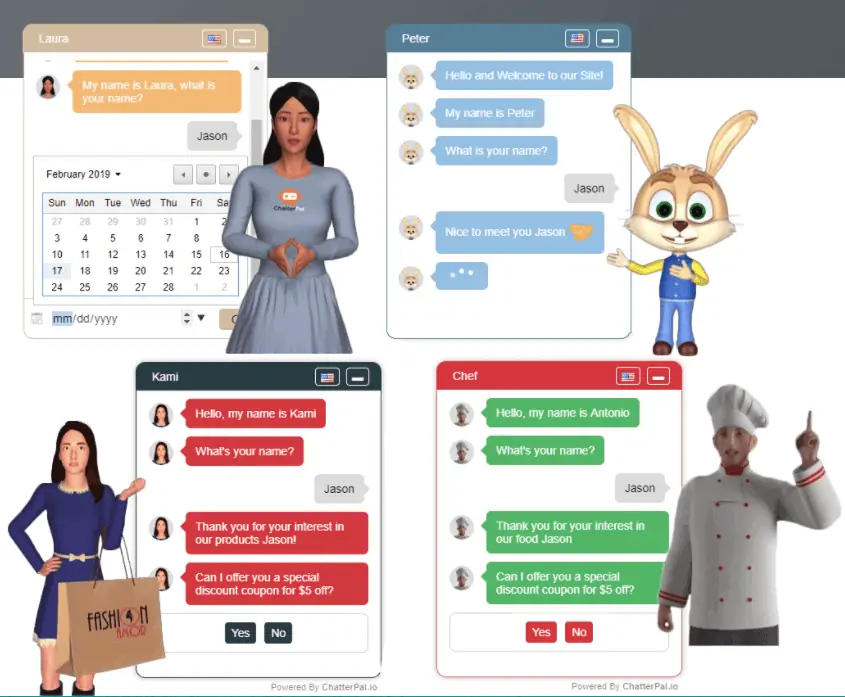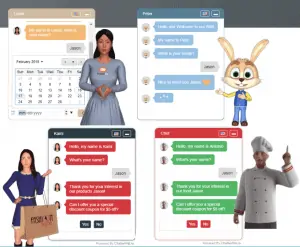 This is an extended feature of the previous one. Using ChatterPal's AI chatbot, you could easily set-up a fully-personalized chatbot agent that fits to your brand identity . Like said earlier, this automated chatbot for website will always be actively representing your brand providing customer support 24/7.
Collection of attention-grabbing Emoticons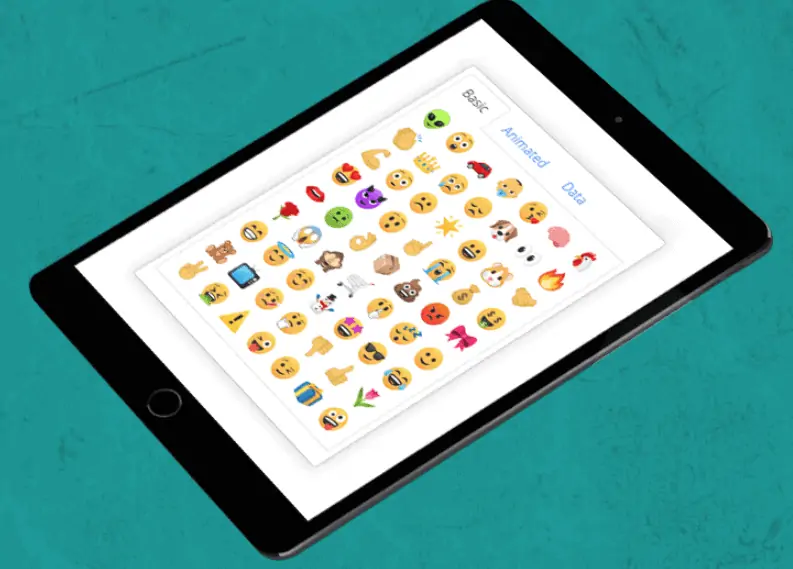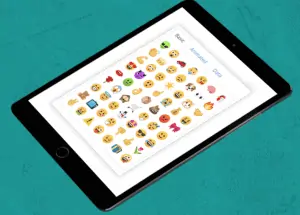 This AI chatbot also comes with a cool collection of elements and attention-grabbing emoticons/emoji's. Use these elements to stir emotions and grab attention in your automated chatbots for website.
Use any Video/Image for your Interactive AI Chatbot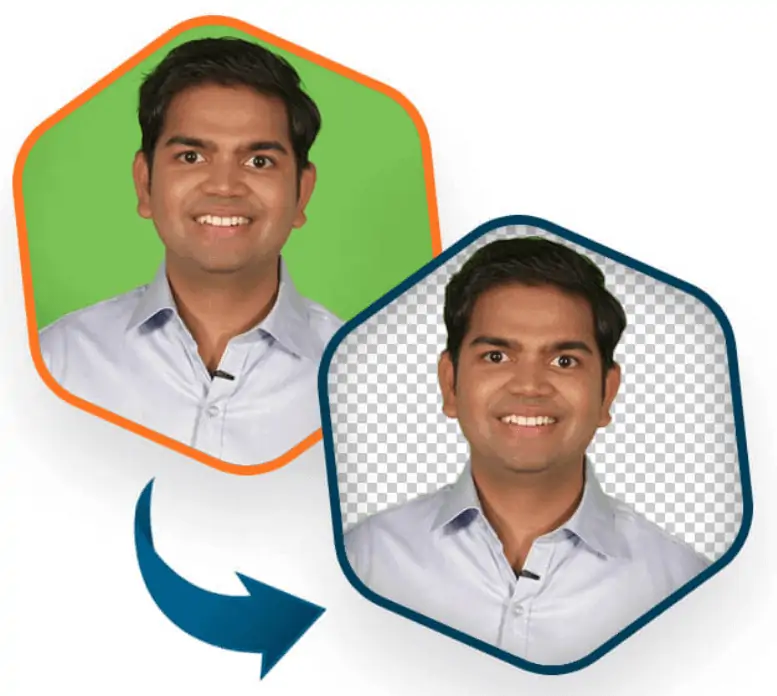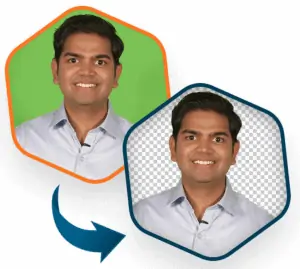 Convert ANY green screen videos or human spokesperson into an interactive automated chatbot for website with transparent background almost instantly!
Works on any Device/Platform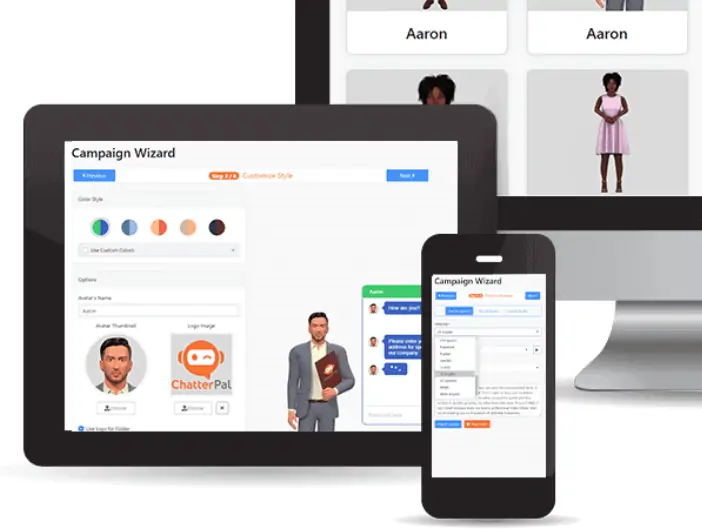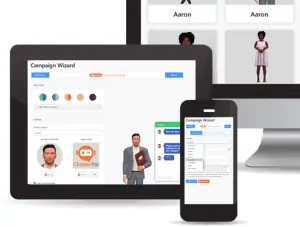 ChatterPal's AI chatbot works on ANY device/platform on a cloud based server. Hence you don't need to download, install or update this automated chatbot for website.
VIDEO DEMO - Chatbot agents explaining the Features
Want to have a feel/look on how 3D animated chatbot agents look when they operate?
Have a look at these two demo videos where two chat agents are explaining the key features of ChatterPal.
ChatterPal Review - How Does this AI Chatbot for Website Work?
Now that you have seen the key features of this AI chatbot, let look at how ChatterPal's automated chatbot can be used to create engagement, leads and sales conversions. ChatterPal AI chatbot for website works in four simple steps:
1) Grab and Keep Your User's Attention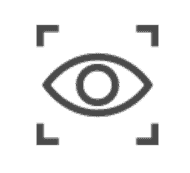 Whenever any user visits your website, the AI chatbot which is located at the bottom right corner, captures the attention of the user instantly. It also sustains the captivated user attention and hence it reduces the website bounce rates.
Interact with your Users and Get their Questions Answered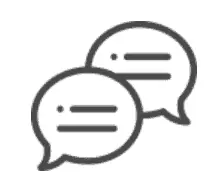 Now that you have your user's attention, you could easily engage with them using the AI chatbot and answer their questions. You could respond to n number of queries and make sure that your user is very much convinced in the value provided by your product/service.
Guide your Users into Sales Funnel or Checkout Page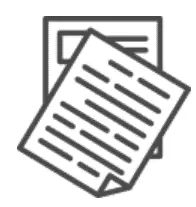 Now that you have clarified your user's query and convinced that you provide product/service of high value proposition, you could now use the ChatterPal AI chatbot to convert your users into customers. You could either redirect them into a sales funnel by providing additional information to a specific product/service or you could provide some incentive/offer and redirect them into the final checkout page.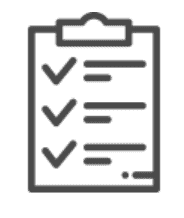 Now that you have successfully made your sales, AI chatbot doesn't stop here. ChatterPal's automated chatbot for website's Smart Analytics Engine, continuously optimizes the best chat-flows and repeats them automatically whenever a similar user visits your site thus resulting in more sales conversions with minimal work and cost spend.
VIDEO DEMO - How to Setup a Chatbot Agent ?
Listen to Pual Ponna, one of the Founders of ChatterPal, giving a demo on setting up a chat agent for your website.
ChatterPal Review - What can this AI Chatbot Do For You ?
ChatterPal AI Chatbot is a very powerful and versatile software. This automated chatbot for website can be used for any business or niche.
Lets look at some of the generic niche areas where ChatterPal AI chatbot can be used.
Run an e-commerce Store ?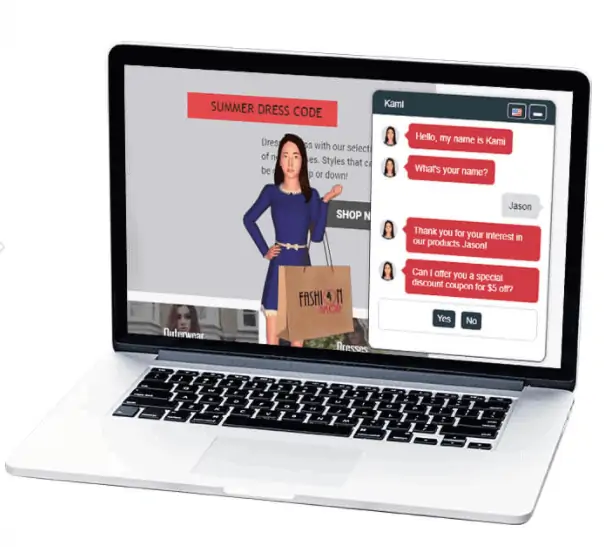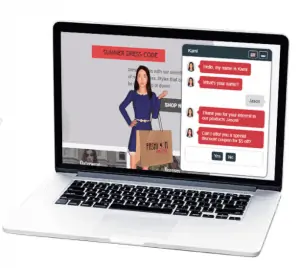 You could use ChatterPal AI Chatbot to run a lucrative e-commerce store. By selecting appropriate automated chatbot settings i.e. 3D-animated character, Text-to-Speech etc. you could engage with users and ask sales related questions. You could help them with what product(s) they are looking for and guide them on buying the same.
The key benefit of this AI chatbot is that

you

could track and chat with customers who stop at the final checkout stage and reduce cart abandonments

.
You could also provide personalized offers/discounts to such users via automated chatbot to convert them into customers.
Run a Mortar & Small Brick Business ?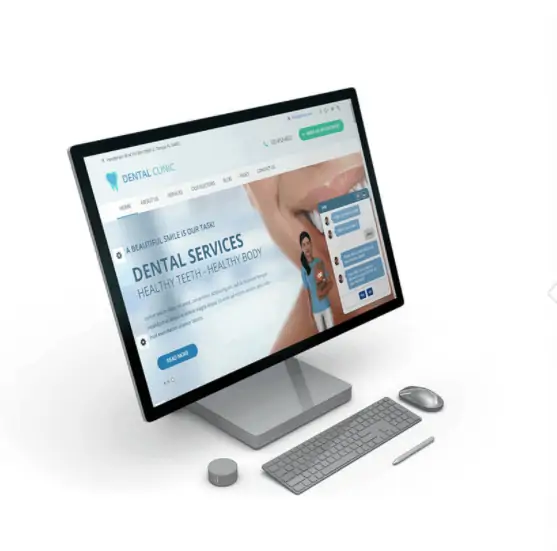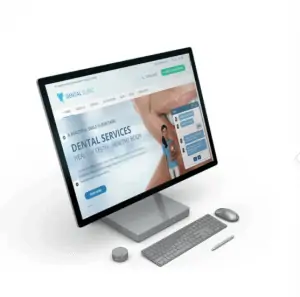 Does your business involves activities like taking appointments like in case of a hair/nail salon or a dental practice? OR
Does your business takes reservations for food, stay, party, and events like incase of a restaurant, hotels, etc. ?
Whatever your business or niche may be, ChatterPal's AI Chatbot for website is got you covered! Using this automated chatbot for website(s), taking reservations and appointments are now made very easy.
Affiliate or a Social Media Marketer?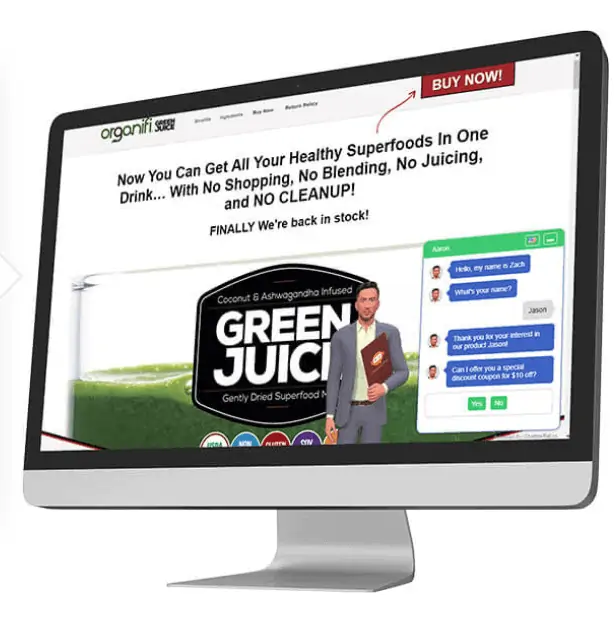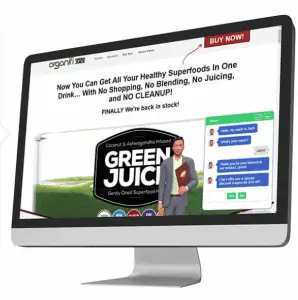 Using ChatterPal's AI chatbot, you could instantly convert your blogs, websites and landing pages into Smart Selling Machines. By doing so, automated chatbot will in-turn engage & interact with your users.
You could setup the AI chatbot for website to redirect your users to Affiliate links dynamically using the chatbot's Live-link technology.
Using ChatterPals's AI chatbot for website(s), you could also collect leads directly, thus eliminating the need for landing pages and opt-in forms.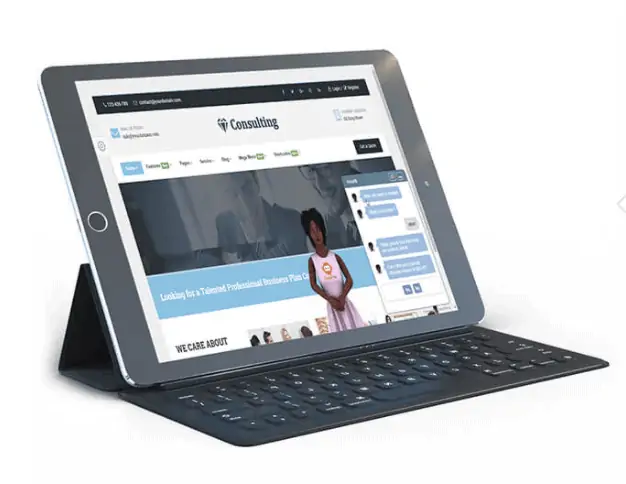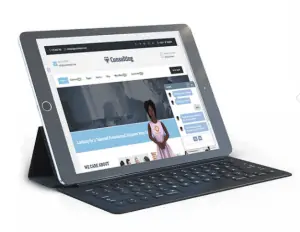 Since ChatterPal provides you a free Commercial License, you could offer ChatterPal's AI chatbot as a premium service to your clients on a monthly subscription basis.
Set up an AI chatbot for website as per client's needs.
Get paid on a monthly basis by just monitoring and maintaining the automated chatbot.
Bonus: You will get training videos and case studies on how to find clients and provide valuable service to earn money!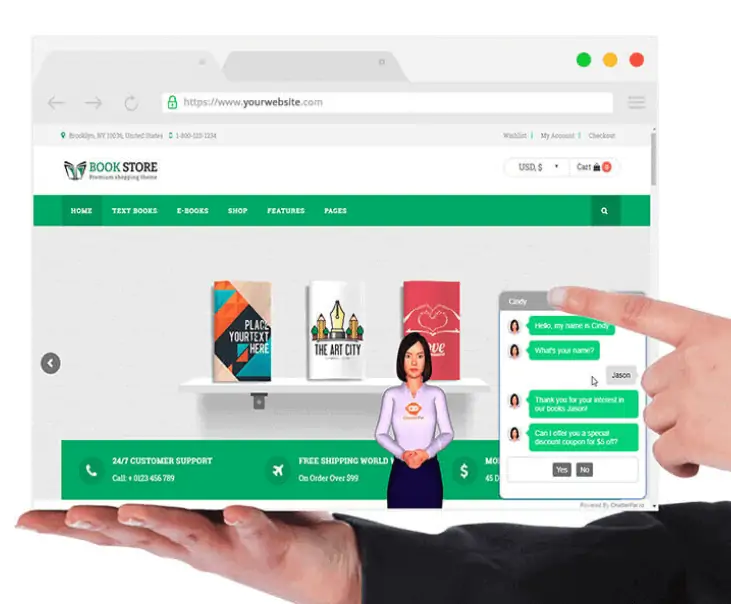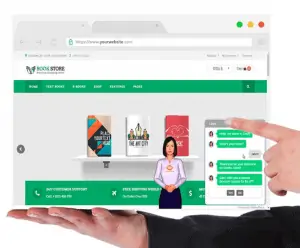 For this kind of business/niche, you could set up ChatterPal's AI chatbot for website similar to the e-commerce niche that we saw earlier.
Setup automated chatbot for website and engage with your users.
Ask sales related questions and educate/guide them accordingly.
Provide incentives/offers to push your user to buy your product/service.
ChatterPal Review - Earn Money/Upsell AI Chatbot
Free Commercial License (Limited Period offer)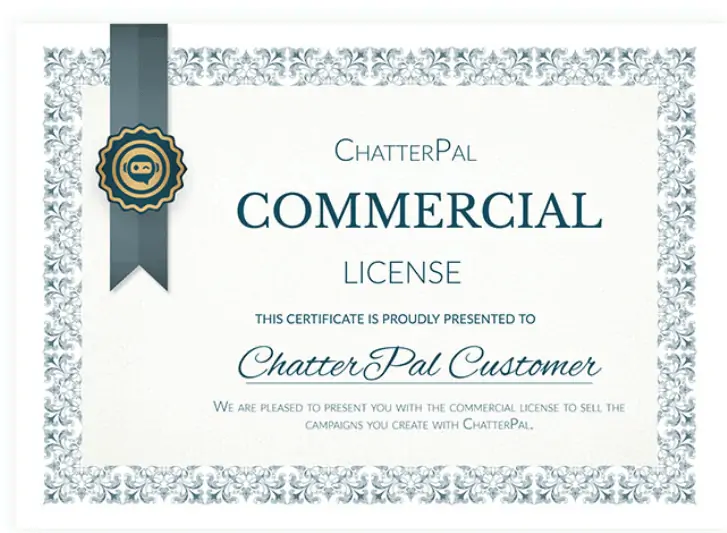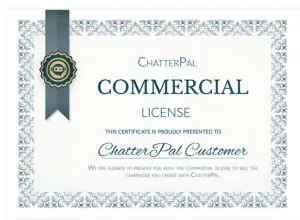 You could not only use ChatterPal's AI chatbot to optimize your website but you also could earn money by selling automated chatbots using the free Commercial License! You could literally create and sell unlimited automated chatbot for websites and earn money.
As explained in the features, it only takes few minutes to create interactive AI chatbots for website/s regardless of what type of business and niche. Moreover, you could use ready made templates to create automated chatbots of any languages and sell them to your clients.
The cutting-edge Interactive 3D Technology backed by the AI's 'SMART Chat Automation' enables you to create automated chatbots for website/s like no other app in the market could. Hence the value associated with such created AI chatbots are very high i.e. there is huge selling potential.
Many have already earned thousands of dollars by selling their automated chatbots for websites. Now, it is the time for you to invest in this profitable ChatterPal AI chatbot and start earning a constant passive income.
ChatterPal Review - BONUSES that you get with this AI Chatbot
Along with the unlimited industry leading features, you also get 4 special bonuses with ChatterPal's AI Chatbot for Website! (Limited Period Offer)
ChatterPal Review - PRICING of this AI Chatbot for Website
ChatterPal AI Chatbot for website also offers many products upgrades which could be purchased for an one time payment.
Note: These upgrades can be activated/purchased only after buying ChatterPal Commercial.
Note: Kindly go through the features of each upgrade if you wish to upgrade your ChatterPal AI Chatbot for Website.
ChatterPal Review- Pros and Cons of this AI Chatbot For Website
One of its kind Cutting-edge Technology
Cloud based platform and hence no speed lags or installation difficulties.
Super-easy to Use and Set-up
Maximum Global Reach via use of multiple languages
Guaranteed Higher Interaction and Lower Bounce Rate
Works Seamlessly on any devices/platforms.
Free Commercial License included with other attractive bonuses.
Free tutorial guide included with the package.
30 day money back guaranteed if you do not like the product.
Upsell your AI chatbots for website to your clients and earn passive income.
Get ChatterPal's AI chatbot for website with unlimited features for just an one time payment i.e. no monthly recurring fees!
Integration with various platforms.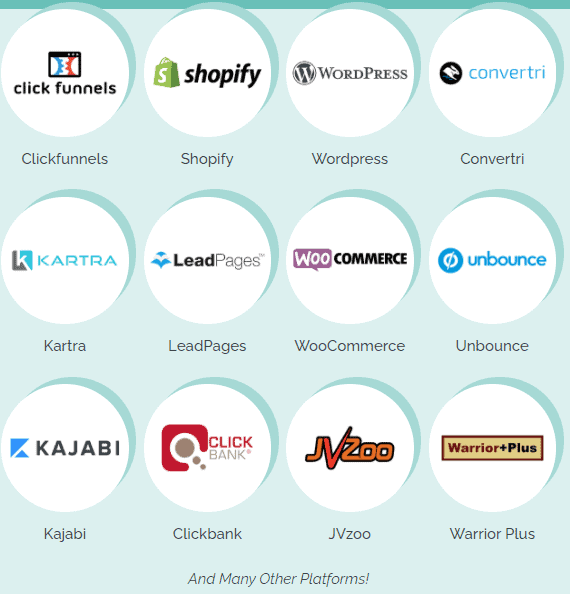 Initially you might take some time to start off with this AI chatbot . This is because ChatterPal's automated chatbot for website provides many features and templates to choose from and there is a chance for you get overwhelmed!
Otherwise, there are no major drawbacks reported for this AI chatbot for websites.
ChatterPal Review - AI Chatbot Testimonials and Reviews
ChatterPal Review - F.A.Q's regarding this AI Chatbot for Website
Does ChatterPal AI Chatbot Work on both Windows and Mac?
YES! Since ChatterPal automated chatbot for website is a 100% cloud based solution, it will work on any operating system. You just an internet connection to use the app i.e. nothing to install nor nothing to update.
Does ChatterPal AI Chatbot work on Mobile Phones ?
YES! ChatterPal automated chatbot for website works on all platforms (computers, iOS & android smart phones and other smart devices)
You Say "unlimited Usage" What's the Catch?
There is no catch. You could literally create, use and sell UNLIMITED AI chatbots for websites using the Commercial License.
Can I use this ChatterPal AI Chatbot if I don't have a Website?
YES! Using ChatterPal's automated chatbot for website's Live-Link technology, you could AI chatbot to ANY website including the ones that you don't own. Using this technique, you could promote affiliate offers very easily.
What makes ChatterPal's AI chatbot Better than Other Apps?
ChatterPal automated chatbot comes with many Industry leading and Cutting-edge Technologies like next gen Text-to-Speech, Lip sync Technology, Smart Analytics Engine, AI powered 3D animated chat agents, etc. You get these features for a very low one time payment plus a commercial license for unlimited usage. No other app can even come closer!
Is Step-By-Step Training Included ?
YES. ChatterPal's AI chatbot for website come with step-by-step training walking you through the entire process starting from creation to selling. Yes! You also get trained to sell automated chatbot to your clients and earn money.
ChatterPal Review - Why Should You Buy This AI Chatbot ? (Conclusion)
To answer your question, let's just simply look at the key benefits offered by ChatterPal's AI Chatbot for Website.
ChattePal AI chatbot for website boosts conversions, leads and sales on ANY website 24/7/365 without the need of hiring staffs, virtual agents or spending out recurring monthly fees for sophisticated chatbot platforms available in the market.
Using ChatterPal's automated chatbot for website(s) as a customer support medium reduces the time you spend on customer e-mails, skype & phone calls etc. to close sales drastically.
ChatterPal's AI chatbot for website is very easy to use even for beginners. You could simply use the ready made chat templates to set up and manage your website.
ChatterPal's automated chatbot for website is loaded with many cutting-edge technologies and features like next gen Text-to-Speech, Lip Sync Technology, Smart Analytics Engine, etc. which makes your website stand out and perform better than your competitor's.
ChatterPal's AI chatbot for website can be used even if you don't own a website. Using Live-link technology, you could use this automated chatbot on others website and generate leads and conversions.
ChattarPal's AI chatbot for Website comes with tutorial videos which explains everything from the scratch in a step by step manner.
To add to these benefits, you will also get a free commercial license which no other app or software provides. Not even Close!

To, conclude, this is the best AI chatbot/automated chatbot for website(s) available in the market right now and I would strongly recommend you to try out this pathbreaking AI chatbot from ChatterPal.